5 Modular Industrial Metal Stair Components
Industrial Metal Stairs and Work Platforms Components
ErectaStep's sturdy, modular design that uses a combination of 5 components: Prefabricated Metal Stairs, Metal work Platforms, Industrial Handrails, Aluminum Ladders and Tower Support, requires no fabrication and quickly bolts together to provide metal stairs, crossovers and many other configurations for safe access over pipes, dike walls, or other obstructions. All our work platforms and industrial metal stairs are OSHA compliant, precision manufactured and fully engineered with heavy gauge steel and aluminum. And as always – each component is fully stocked and ready to ship today!

Unlimited Configurations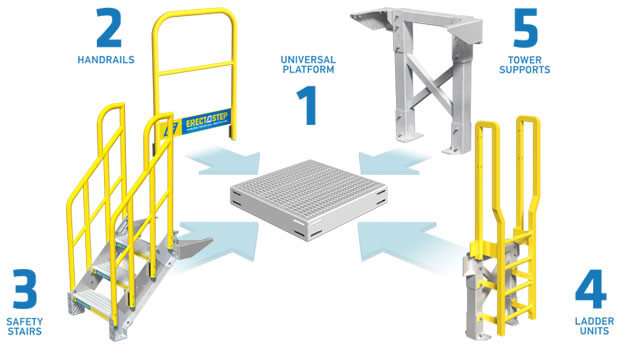 ---
Metal Work Platforms
Prefabricated 36″ by 36″
Stamped positive-traction walk surface
Units have common bolt hole patterns for ladder, handrails, metal stairs and other platforms
Platforms require support every 9′
Constructed of aluminum
---
Metal Handrail
Universal nut-plate insert
Prefabricated to fit the 36″ side of an ErectaStep platform
Pipe construction
Powder coated, aluminum construction
---
Prefabricated Metal Stairs
1 and 2-step stairs are "stand alone" units
3 thru 6-step units are designed to be connected together totaling up to 20 steps
26″ wide stamped positive-traction surface
Prefabricated to fit any side of an ErectaStep platform
Handrails on both sides to be powder coated pipe construction
Constructed of aluminum
---
Metal Tower Support
Single ErectaStep platform to a single tower support
Two platforms with one tower support between the seam
Tower support to go on multiple sides of an ErectaStep platform system
Constructed of aluminum
---
Metal Ladder
Ladder requires 90000 series ErectaStep tower
24″ wide "D" shaped rung
Prefabricated to fit any side of an ErectaStep platform
Constructed of aluminum
---
More Benefits of ErectaStep Stairs and Work Platforms:
Quick & Easy Assembly. Using just five components, the modular design can be quickly assembled and requires no fabrication. You'll receive the simple instructions and even the wrench for bolting.
Long Lasting. ErectaStep industrial platform and stair systems are easily moved and reconfigured into unlimited, expandable safety solutions.
Get it Fast. Because of the five standardized components and high-tech manufacturing process, ErectaStep can deliver safety systems to you quicker than ever before — so you can get it up and running faster than ever before.
Safety First. Every one of ErectaStep's products is OSHA compliant, lowering your risk of ownership, increasing your productivity and helping you make safety a priority.
Long Lasting. Precision manufactured out of powder-coated aluminum, ErectaStep stairs and platform systems are durable and long lasting, which means fewer maintenance costs over time.
Available and Ready to Ship. ErectaStep's patented configuration app lets you design your platform systems in real time. Call A SafeRack representative about your specific requirements and we'll ship out your system as soon as tomorrow.
---
One Work Platform – Endless Expansion

ErectaStep's modular design accommodates requirements from a single 3′ x 3′ work platform to unlimited platform area requirements. Shown above are a 3'x 12′ walkway configuration and a 9'x 9′ platform. Each of these designs can easily be expanded with the aid of tower supports. Platforms do not need intermediate support until you exceed three.

Effortless Assembly

Our patent pending platform design allows handrails and stairs to attach to common bolt holes on any side, allowing any configuration without drilling or fabrication. Configurations can be altered and components can be re-purposed at any time.