Metal Tower Supports
< View our line of industrial Stairs
Metal Tower Supports are Modular and Can Be Repositioned
Always OSHA-Compliant
In-Stock and Ready to Ship
Standing Up Safety. ErectaStep's OSHA-compliant metal platform tower supports carry the weight of the work platform and the workers on it with ease. When workers need to safely get up and over an obstacle, or need safe access to an elevated area for servicing, ErectaStep's modular metal stair system is the perfect solution. There's no custom fabricating or on-site welding; the systems are in-stock and ready to ship.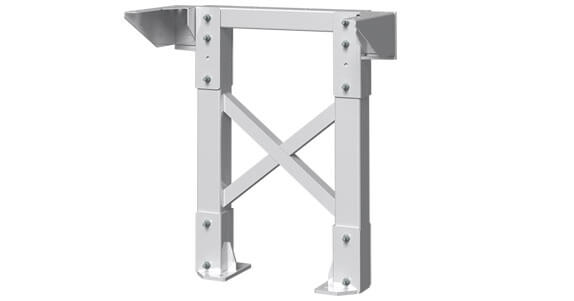 Metal Tower Support Features:
Metal Tower Support Available in 11 heights
Tower supports can bolt to any side of industrial stair or access platform—regardless of stair location
Can span two work platforms
Standard heights up to 15 feet
---
Using a combination of 5 components: Prefabricated Metal Stairs, Metal Work Platforms, Industrial Handrails, Aluminum Ladders and Tower Support, our modular design is sturdy, requires no fabrication and quickly bolts together to provide metal stairs, crossovers and many other configurations for safe access over pipes, dike walls, or other obstructions. All our Metal Tower Supports are precision manufactured, fully engineered with heavy gauge steel and aluminum. And as always – each component is fully stocked and ready to ship today!
---