Metal Work Platforms
< View our line of industrial Stairs
Metal Work Platforms Can Be Repurposed and Reconfigured
OSHA-Compliant Access Platforms
Laser Technology Reduces Welds, Increasing Access Platform's Longevity
Reach New Heights. ErectaStep's OSHA-compliant work platforms can be configured to create access platforms for  any application industrial application. Always stable, the precision-engineered platforms can be built to varied heights with the help of their complementary stairs and tower supports. They can also be configured next to one another to extend their length, making the list of potential configurations nearly endless.
Using a combination of 5 components: Prefabricated Metal Stairs, Metal Work Platforms, Industrial Handrails, Aluminum Ladders and Tower Support, our modular design is sturdy, requires no fabrication and quickly bolts together to provide metal stairs, crossovers and many other configurations for safe access over pipes, dike walls, or other obstructions. All our OSHA compliant work platforms and industrial metal stairs are precision manufactured, fully engineered with heavy gauge steel and aluminum. And as always – each component is fully stocked and ready to ship today!
---
Metal Work Platform Features:
Patent-pending, 36″ square platform connects with additional platforms
Universal design on all four sides for application adaptability
Lightweight, yet durable design for easy installation
In-stock design means you can install your project within days
Aggressive, self-draining tread
---
One Metal Work Platform – Endless Expansion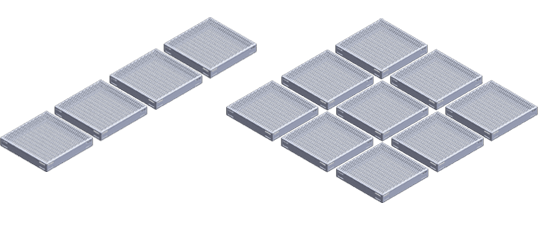 ErectaStep's modular design accommodates requirements from a single 3′ x 3′ work platform to unlimited access platform configuration and requirements. Shown above are a 3'x 12′ walkway configuration and a 9'x 9′ platform. Each of these designs can easily be expanded with the aid of tower supports. Platforms do not need intermediate support until you exceed three.
---
Effortless Assembly
Our patent pending platform design allows handrails and stairs to attach to common bolt holes on any side, allowing any configuration without drilling or fabrication. Configurations can be altered and components can be re-purposed at any time.
Example shown here has our prefabricated metal stairs (5 step) and aluminum handrail
---
---