Maximize Industrial and Commercial Spaces with Mobile Platforms and Ladders
View All Featured Installations
Regardless of whether your facility is an office, a warehouse, or a manufacturing plant, space constraints are not unusual and you can work around these constraints will rolling ladders and platforms!
Facility and commercial spaces are not created equal because equipment or merchandise often obstruct workers' paths in the storage or stockroom of most warehouses, making it trickier for them to move around freely. Tight spaces can create safety hazards and make it difficult for workers to perform their tasks. Making matters worse, workers need to reach shelves in these cramped spaces.
When it comes to facility layout, several factors need to be taken into account to create an efficient and effective facility space. The first and perhaps most obvious factor is the type of facility being created. For instance, a manufacturing plant will have different layout needs than a warehouse. Once the facility type has been determined, the next step is to consider the individual spaces within the facility. Each area will have unique requirements, and it is important to consider these when designing the layout.
For example, this Australian food supplier needed work access to the other side of the conveyor belt. Or an odorant facility required rolling ladders to fit a tight space between large tanks blocked by spill containment berms. Honestly, there is no one-size-fits-all option, so a ladder manufacturer should be able to work around what your circumstances demands, even if it's a complicated custom assembly line system.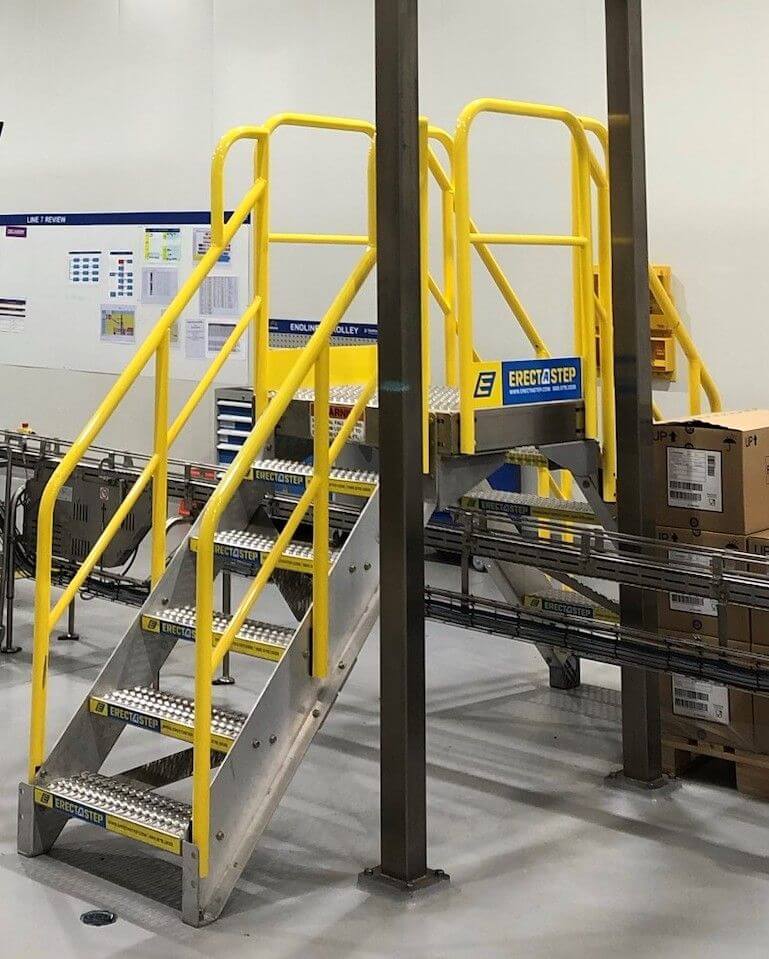 Additionally, the operations manager must consider traffic flow patterns to ensure that materials can move efficiently throughout the facility. Finally, it is also important to consider the potential for future expansion when designing a facility layout. All these factors make it possible to create a truly efficient and effective facility. With narrow aisles and rows of shelves, lugging around a standard ladder is simply not an option, and that's where rolling ladders come in.
Besides maximizing the space and efficiency options, worker safety is always a top priority in any business. Still, it's especially important in industrial and commercial environments, where aisles and shelves are cluttered with merchandise, tools, or equipment. In these cases, traditional ladders simply won't do – they're too wide and unwieldy to maneuver in tight spaces. That's why more and more businesses are investing in custom options, like rolling ladders and work platforms. Rolling ladders, in particular, are ideal for commercial settings because wheeling them around aisles makes it easy for workers to reach items on high shelves. Custom work platforms are also a good option for businesses that frequently need to access hard-to-reach areas. With worker safety in mind, it's clear that investing in the right metal stairs for the job is essential.
One way to improve the layout of facility spaces is to optimize available space. Routing materials through a central location can minimize the amount of equipment placed strategically in workers' paths, creating a safer and more efficient workplace.
Another way to improve facility spaces is to use mezzanine systems. Mezzanines are raised platforms workers can use to store materials or create additional workspaces. Adding a mezzanine can sensibly maximize the vertical space in your facility. You can even install sturdy and OSHA-approved guardrails on your mezzanine floor as added fall prevention measures.
If you are looking for a way to improve your facility layout without spending a lot of money, rolling ladders may be the quick fix. Rolling ladders are less expensive than installing mezzanines with catwalk stairs and can provide many of the same benefits. Rolling ladders take up less space than traditional ladders, making them ideal for close quarters. Employees can easily relocate this moveable equipment to any spot, so your facility layout can stay as is. In addition, portable metal stairs are less likely to damage flooring and walls than traditional ladders. As a result, they can help you save money on repairs and maintenance.
When purchasing a mobile ladder, it's important to consider the following:
The size of the ladder. Do you need a compact ladder that can fit in tight spaces or a larger one that will provide more stability?
The weight capacity. Make sure the ladder can handle the weight of whatever you use it for.
The type of material. For example, aluminum ladders are typically lighter and more durable than wooden ones.
The price. Don't overspend on a ladder that you won't use often or that isn't built to last.
Other concerns are:
Height of the Ladder
Initially, you must determine the needed access by choosing your demands and available space. Once it is decided, you can select the ideal ladder for you. Keep in mind that the topmost platform has to be close to five feet from the highest approved access point.
Width of the Ladder
From there, determine the appropriate dimensions for your spot. You must have enough space to climb the platform, so you must choose a ladder with the correct measurement. Width reduces lateral motion caused by a variety of job circumstances. It would help if you got the advice of an expert to determine the proper width for your ladder.
Accessibility of the Ladder
Then you must determine if the ladder must round tight corners or pass through openings. Portability and functionality are sometimes ignored, so picking the best ladder for your work environment is critical.
Facility managers must be aware of the different types of limitations that can impact the layout and design of their spaces. The most common facility constraints include cost, safety, and code regulations. Each of these constraints must be in the plan when redesigning a facility layout, as they can significantly impact the overall effectiveness of the space.
Cost constraints may be the most important when designing a facility layout. It doesn't take a genius to know that the cost of the structure will directly impact the business's upfront bottom line. Finding a balance between cost and efficiency is important when designing a facility layout. Safety constraints are also critical to consider when designing facility spaces. Employees' and customers' safety should always be a top priority. There's no way around that because business owners must follow various Occupational Safety and Health Administration (OSHA) regulations besides satisfying an aesthetic-yet-functional facility layout. Finally, code regulations are another important constraint that must be considered when maximizing facility spaces. These regulations can impact the facility's overall design and may require specific components or features to be included in the layout. Rolling ladders and platforms enable small businesses to utilize their available space to the fullest. If you are considering rolling ladders for your facility, be sure to talk to a professional to find out if they are the right choice for your needs.